2017 Tasmanian Yachting Awards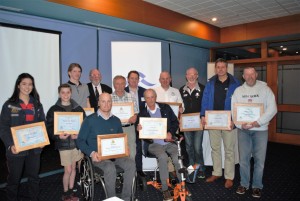 ---
Rio Paralympic silver medallist Matt Bugg has been inducted into the Tasmanian Yachting Hall of Fame and also again named Tasmanian Male Sailor of the Year.
The honour was announced on Saturday evening at Yachting Tasmania's annual sailing awards, held at the Royal Yacht Club of Tasmania, with Bugg joining a prestigious list of outstanding sailors in the Hall of Fame.
Bugg, a member of the Royal Yacht Club of Tasmania and the Derwent Sailing Squadron, was recognised for his continued international success in the 2.4mR class following his silver medal at the Rio Paralympics.
He recently won the a silver medal at the Para World Sailing championships a Kiel, Germany and is currently ranked world number one in the 2.4 class.
Other RYCT members to receive awards were Graeme Wood and Anna Cerneaz, David Graney, Greg Rowlings, Richard Scarr, Brendan Crisp and Daniel Maree and Michael Gluskie.
Also inducted into the Hall of Fame were Mike Darby of the Wynyard Yacht Club and Gilbert Leitch from Derwent Sailing Squadron. Both men have been outstanding workers for their clubs with Leitch also involved in many sailing events on the Derwent.
Female Sailor of the Year is teenage Sandy Bay Sailing Club member Alice Buchanan, recognised for her versatile sailing in youth off-the-beach dinghy classes, including Optimists and 29ers. She is the third generation of sailors in the Buchanan family.
The Outstanding Youth Achievement award went to Brendan Crisp and Daniel Maree for their outstanding performance in winning the Australian Flying 11 Championships (first ever Tasmanian win).
Midway Point Yacht Clubwas named Club of the Year for its development of club facilities and its successful staging of state and national championships, including the B14 nationals last summer.
The Yachting Personality of the Yearaward went toGraeme Wood and Anna Cerneaz for their work in setting up and maintaining the Athena Sailing Program for woman. Athena sailor Colleen Darcey accepted the awards on their behalf and read a message from Wood.
Disabled Sailor of the Year award went Chris Symonds from Wynyard Yacht Club for his 2016 World Championship and 2017 National Championship wins in the 303 dinghy class.
Joint winners of the Offshore Sailor of the Year award for the Bennetto Cup were Richard Grant (Cromarty Magellan) for winning the Corinthian Division in his first Sydney to Hobart Race, and David Graney for his crewing in the Clipper Round the World Race, including being one of two watch captains.
Greg Rowlings was named Administrator/Sport Professional of the Year, recognising his development of The Hutchins School sailing scheme
Richard Scarr, Matt Bugg's coach and Tasmanian State Sailing Coach, was named Coach of the Year. Scarr is currently coaching Tasmanian sailors at the 29er World championships in California with his award accepted in a moving speech by his partner Philippa Calvert.
The new Instructor of the Year award went to Jeremy Parker, the Derwent Sailing Squadron RYA trainer.
As MC Greg Rowlings put it: "Without volunteers we would not be able to successfully conduct our sport" and this year has seen joint winners of the Volunteer of Year award: Michelle (Edward) Denney at the DSS and Michael Gluskie at the RYCT.
Michelle has been in the race management teams of major events on the Derwent, also finding time to take excellent photos for social media, yachting magazines and daily newspapers.
Michael was recognised for work at an RYCT race officer and with schools team racing. Earlier this year, the RYCT award him the Past Commodores' Trophy for Services to Yachting.
Words and photos: Peter Campbell
7 August 2017
---
The 2017 Tasmanian Sailing Awards and Hall of Fame evening was held at the Royal Yacht Club of Tasmania on the 5th August 2017. The event was again MC'd by YT Southen vice-president Greg Rowlings who once again did a fantasic job.
The function was attended by approximatly 100 members of the sailing community, whether that be in the form of an active sailor, family, supporter or lover of sailing/yachting in general.
The following winners and inductees were announced:
Male Sailor of the Year - Matt Bugg
Matt has been the highest performing Tasmanian Sailor for 2016-17 peaking with a silver medal at Rio Paralympics in Sept 2016. His hard work and determination, supported by Australian Sailing's High Performance Program, his coaches and family, have seen Matt consistently sailing at the highest level. His ability to perform under the greatest pressure is testament to his commitment to his sport and his personal strength of character.
Female Sailor of the Year - Alice Buchanan
Alice was the first Tasmanian girl to be selected as part of the Australian Optimist Sailing Team where she represented Australia at the Asian and Oceanian Championships in Sri Lanka. There she finished as the highest ranked Australian girl and a fantastic 22nd overall.
Disabled Sailor of the Year - Chris Symonds
Although a sailor with a disability, has always raced against able-bodied sailors on an even playing field. He has made the Hansa 303 Single Open class his own winning the Tasmanian, Australian, Asia Pacific and World Championship all in one sailing season. Chris was also runner-up in the Australian, Asia Pacific and World Championship in the Hansa 303 Double Open. A stalwart of the Wynyard Yacht Club and sailing in general on the NW coast, Chris is the driving force behind the sailing event in the upcoming Masters Games in NW Tasmania this year.
Chris was crowned Hansa 303 Single Open World Champion in 2016, and followed this up with victory at the Nationals, Asia/Pacific Championships and the States.
Club of the Year - Midway Point Yacht Club
Midway Point Yacht Club have over the last few years done major upgrades to the club house/ jetty and rigging area enabling the club to host back to back years of National titles in 2015-16 and 2016-17.
The club also successfully ran the Tasmanian Youth Championship and Schools Regatta in March, which saw 50 junior sailors converge on Pittwater in what was a great weekend.
The Pittwater Regatta continues to grow and more club improvements are scheduled and funded for this off season as well as the upgrading of the training fleet in time for next season.


Outstanding Youth Achievement - Brendan Crisp and Daniel Maree
Brendan and Daniel were the first Tasmanians in the history of the class to win the Australian Flying 11 Championship. Training in a very small local fleet of Flying 11s, Brendan and Daniel worked hard on their tactics, boat handling and especially boat speed. Their experience in the tricky Derwent conditions combined with great tactical skill saw them take home the championship with a race to spare.
Bennetto Medal for Offshore Sailing - Joint Winners: David Graney and Richard Grant
In 2016 Richard attempted his maiden Sydney to Hobart Yacht Race. Preparations for Richard and his mixed gender crew took a turn for the worse when two weeks prior to the 2016 Maria Island race, during a practice session on a windy River Derwent, the rudder sheared off at the waterline. The determination of Richard and his crew saw Magellan make the start line of the Maria race and then finish this qualifying event without incident.
On their debut, Richard and his crew overcame many hurdles to get to the Boxing Day start line.
After a brilliant race to Hobart, Richard and his crew achieved 1st Place Overall in the Corinthian Division of the 2016 Rolex Sydney to Hobart Yacht Race.


David was a crew member of Da Nang - Viet Nam, one of 12 identical Clipper 70-foot racing yachts specially designed for the extreme endurance tests during the 10th edition of the world's longest ocean racing adventure for amateur sailors. Originally David signed up for one leg of the challenging race, but the withdrawal of another crew member presented a once-in-a-lifetime around the world opportunity which David was quick to embrace. David's skills at the helm and in sail repair were well utilised throughout the circumnavigation as teams could save points by doing as much of their own repair work as possible.
Coach of the Year - Richard Scarr
Richard coached Matthew Bugg throughout his campaign for the Rio Paralympics, to a silver medal, as well as the campaign for the London Paralympics in 2012. Richard's skills and dedication have made a major contribution to Matt's success in Rio and at numerous World Sailing and Para Worlds events throughout Matt's campaign. Richard also coaches the Tasmanian State Sailing Performance Program and has recently been asked to coach the Australian 29er Team at the 2017 World Championships in California.
Instructor of the Year - Jeremy Parker
Jeremy Parker has been an instructor at the DSS since 2009, he is our RYA Chief Instructor. In the last year Jeremy has put 74 students through MAST Power boat full course, 71 through the provisional course, 6 people through the RYA Yacht Master, 4 people through the LROCP Marine Radio course, 25 people through SROCP Marine Radio course, 16 people through the Inshore and Coastal Navigation course, 3 people through the ICC course and 38 people through the Sea Safety and Survival Course. Jeremy has helped many people through the process of gaining the skills they require to keep them safe on the water and we believe a worthy nomination for Instructor of the year.
Volunteer of the Year - Joint Winners: Mike Gluskie and Michelle (Edwards) Denney
Michael Gluskie was the 2017 winner of the RYCT Past Commodore's Award for Services to Yachting. Michael is a highly valued member of RYCT's Off-The-Beach Committee, qualified race officer, mark layer and general volunteer. He has conducted fleet, teams and match racing events for RYCT and YT. Michael is a regular volunteer for the YT Schools Team Racing series and was a race officer at the Tasmanian Schools Team Racing Championship.
Michelle Denney has volunteered her time to assisting with yacht races run on the Derwent, in the past year she has been an assistant to the RO on the 2016 SB20 Winter Series, Hansa State Titles, SB20 State Titles, SB20 Grand Slam, the 2017 KOD, 2017 Moth Nationals & Mid River Harbour Races as well as jumping into a mark laying boat when required. While doing these duties Michelle has also taken numerous photo's of competing boats and posted them to social media for all to see as well as supplying them to Peter Campbell for his articles. In between all this Michelle sails on her own boat Wild West with husband Michael Denney. Suffice to say if the DSS is running a race Michelle will be helping somewhere.
Yachting Personality of the Year - Graeme Wood and Anna Cerneaz
Graeme and Anna have been the founders and sole financial supporters of the Athena Sailing program for the last 18 months.
They have not only donated 4 x SB20's to the cause, but also allow the use of the Sydney 47, and 2 x 8m boats, along with their RIB for coaching and also to the local clubs for use by the media during the Sydney to Hobart.
This sailing program has not only furthered the possibilities for females who are already sailors, but have introduced a large number of new sailors into our sport.


Administrator/ Yachting Professional of the Year - Greg Rowlings
Greg has been the driving force behind the instigation of the Hutchins Sailing Academy that allows our boys to compete in a multitude of platforms; Teams Racing, match racing and one design SB20 fleet racing. Greg's tireless work behind the scenes in an administrative role is what makes our program viable and gives our boys the opportunity to compete locally, nationally and globally. He also oversees putting 140 boys through the "tackers" program in our junior school and then encourages the older boys to give back and become Australian Sailing instructors themselves.
Hall of Fame Inductees:
Matthew Bugg
Matt unknowingly began sailing in his father's Half-Tonner at the age of six weeks (Spent most of the time in a bassinet in the forepeak). As he got older he spent most of his time getting to know the ropes, regularly sailing on "Humbug"" then "Buggbear" and in dinghies; Early on in sabots, a short time as forward hand in a 470, then spent several years in Cadet Dinghies, representing Tasmania several times in ""Narranda" in the Stonehaven Cup.
As "you do", if you've sailed in Cadets', Matt moved into Sharpies and competed in a couple of National Titles.

Matt moved to Europe and found employment in the superyacht industry; first sailing on "Piropo IV"' a 256 feet ketch, then spent several years on "Gael'" a 79 ft Rhodes Ketch.
While on vacation from "Gael" Matt had his devastating accident snowboarding at St Moritz.
When he eventually made it back to Tasmania and through the trauma associated with his accident Matt looked to see what to do next and the "sea salt in his veins" led him back to sailing and to the International 2.4 that caters beautifully for the disabled.
A wonderful (nee-memorable) fund raising night held at the RYCT and other fund raising activities allowed Matt to purchase two older 2.4mR's from Melbourne and the rest is history:
Matt spent considerable time and effort restoring the boats and the two would often be seen pacing it on the "river". Interest grew and more 2.4's joined the fleet and with assistance from the National 2.4 association the first Australian titles to be held in Hobart took place. Matt finished 14th., but the "seed was sown"' and from there, over the next few years, his placings in improved to the point where he was recognised as a rising talent and Yachting Australia provided him with a coach, Richard Scarr, who has bought him through to the successes he has had now.
Matt has sailed internationally in all the important regattas and the knowledge and experience gained has seen his World ranking move upwards to move up and down in the top three. He is currently ranked second in the ISAF Rankings.
His well-documented results are topped with him achieving Silver at the Rio Paralympics, but at the same time receiving acclaim for his fine performance and demeanour leading in to and during the last race of that series, where he won convincingly and moved from Bronze to Silver.
His last effort in the 2017 Para Worlds in Kiel, Germany had a similar result, with Matt losing Gold on a countback (lost gold by one place).
Matt is also a fine ambassador for the sport of sailing as his numerous media appearances would attest. He shows the face of success over adversity and sailing has been the vehicle to achieve that success.


Mike Darby
Mike started sailing when 8 years old on the D'entrecasteaux Channel crewing in a Tamar class at the 1956 state championships with Richard Blundell as his skipper.
Mike joined the WYC in 1970.
Mike has owned skippered or crewed the following dingy classes Tamar, Sailfish, Arafura cat, Cherubs, Moth, Javelin, 470's and the Hartley TS 16 and Hansa 303.
Mike has built many timber yachts he has raced over the years and featured his Hartley TS16 in the Wooden Boat Festival on two occasions
Mike has competed successfully in state, national and a world championship over those 61 years winning four national championships and second place in a world championship
Mike has won the Wynyard Club Championship on a record 19 occasions.
During the 1970's Mike has sailed offshore in the Queenscliff to Devonport and the Sydney to Hobart yacht races.
Mike has held administrative positions at WYC being Commodore for 4 years and on either Sailing or Management committees for all his time at WYC.
Mikes strengths are in his teaching skills with a practical safety based communication skill set gained by his 61 years of boating knowledge and senior workplace roles.
Mike was head youth coach at Wynyard from 1980 till 1995 with his afternoon racing it called for long days at WYC.
Mike is a qualified Race Officer being the PRO for the National Sabot Championships held in 2011.This regatta had 130 entrants and held in coastal waters of Bass Straight.
Mike is a Senior Dingy Instructor volunteering his time at many Start Sailing, Tackers, and Start Racing Programs at WYC.
Mike is also a Marine and Safety Tasmania Powerboat Instructor and gained his Restricted Coxswains certificate with Surf Lifesaving Tasmania participating in a number of Search and Rescues off Wynyard of boats in distress.
Mike attends each Sailability program at WYC taking participants sailing who would not otherwise have the opportunity to do so.
Mike has given his time to umpire at teams racing regattas.
Mike's enthusiasm for sailing education continues to expand with his recent enrolment in Australian Sailings newly established Coaching Program.
Mike has travelled overseas coaching and supporting Chris Symonds in his successful World Championship in the Hansa 303 class and as this is written about to depart with Chris to attend the Para Sailing World Championships in Germany.
From the above you can see that sailing is in Mike's blood but must add that his wife Sue is a key part of why it has all being so successful.
There is no doubt that without Mikes input the WYC would not have being so successful in winning many national awards.
Mike has given outstanding service to the NW Community, members of the Wynyard Yacht Club and Sailing in Tasmania and a deserving nomination into Yachting Tasmania's Hall of Fame and we look forward to many more years of Mike being a part of WYC.
Gilbert Leith
Gilbert Leitch has been a member of the Derwent Sailing Squadron since 1972 and was elected as a life member in 1989. He has played an active role in the DSS sailing program for most of his time at the club. He has been on the Sailing Committee on the Combined Clubs Working Group committee, he has served as a Race Officer for the DSS Twilight races, Combined Clubs Harbour and Long races, Sunset Series races, Hansa Class State Titles and of course the "Two Handed Worlds", which he introduced to the DSS and stood by when there was only a small fleet of 5 boats. Through his support and persistence it has now grown to be one of the most popular series run by the DSS averaging 50 to 60 competitors each series over the last five years. Gilbert was the officer of the day for the very first King of the Derwent race in 1978. For many years he would also start the Friday night race of the Pipe Opener before driving down to Gordon to sit on the jetty taking finish times for most of the night. It would be safe to say that any race that the DSS has put on Gilbert has played a part in it. He is always thinking about how he can improve our racing whether it be new courses or races, regularly providing the Derwent Sailing Squadron's Sailing Manager and committee novel ideas, that most of the time result in improved racing for all sailors.
Gilbert has long been a driving force for innovation in sailing in Hobart, not only for those things already mentioned but in a range of other activities. For example he was involved in the organisation of the earliest East Coast Classics. He was the driving force behind the popular Fun Run that involved both the sailing fraternity with local athletic clubs in a Three Peaks-type event that started in Hobart and finished at Kettering. The permanent buoys on the western side of the river are a result of Gilbert's forward thinking (he also regularly maintains the marks and coordinates with Tasports and MAST in their placement). He is constantly refining race courses and position of new marks in addition to exploring new events that will benefit Hobart's yachtsmen.
He is also an advocate for our sport more generally across the state, and has chaired the selection panel for the annual Tasmanian Yachting Awards and Hall of Fame since its inception. His input and information is key to ensuring that the Hall of Fame is representative of the highest level of contribution and achievement in sailing within Tasmania.